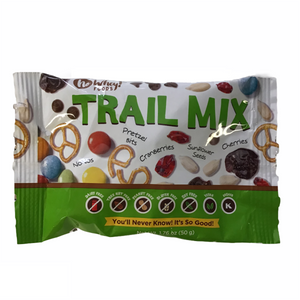 We heard you; you said, "No Raisins, No Nuts...We need a good, allergy-friendly, vegan trail mix!" and we say, "You got it!"

Our Trail Mix: A wonderful blend of salty, fruity and sweet favorites. Great for snacking while hitting the trail or enjoying a mid day treat. You won't feel deprived in anyway while munching on our Trail Mix. Each bag is filled with a delicious mix of our Choco No No's, dried cherries and dried cranberries, pretzel bits, sunflower seeds, and our chocolate Morsel chips. It's so good! (1.76 oz)

This product is made in a dedicated facility free from the top 8 common food allergens and is gluten free. This product is dairy free, peanut free, tree nut free, soy free, wheat free, egg free, fish free, shellfish free, and gluten free.



Features


Vegan, All Natural, Dairy Free, Milk Free, Lactose Free, Peanut Free, Tree Nut Free, Egg Free, Soy Free, Wheat Free, Gluten Free