WINGHAM STORE INFO
Local delivery available. Shipping in summer is restricted to non-chocolate items. Please call the Wingham store for out of province shipping.
OPEN MON-FRI 9-6
SATURDAYS 9-5
CLOSED SUNDAY AND ALL STATUTORY HOLIDAYS
14 B Line Rd. Wingham, ON
519-357-3663
info@sweetsntreatschocolates.ca
BLYTH STORE INFO
413 Queen Street, Blyth, ON
226-523-6336
WINTER HOURS
TUESDAY - SATURDAY 10-6
CLOSED SUNDAY, MONDAY AND ALL STATUTORY HOLIDAYS


Ask us about our Piñata Cakes!
Tired of the same old choices when it comes to cakes? Looking for something unique?
Look no further than Sweets N' Treats Piñata Cakes! These cakes are hollow, all chocolate cakes that you fill with anything that you want! If it fits, we will stuff it in there! And then instead of cutting the cake, you smash it open!! Only your imagination holds you back on what you can do with these unique cakes! From weddings to birthdays piñata cakes are a high point of any celebration. Call for more info.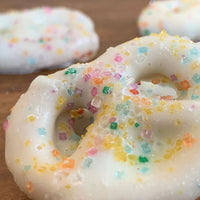 OMG COOKIES
Honey Cinnamon cookie in white chocolate. Known as "The Best Cookie in the World" they are ridiculously good. 10 pieces of heaven. Your mouth will love you!
GET SOME NOW
These OMG Cookies!!! So, So Good! They  really are the best cookies in the world! Like, you have to try them!

Kaitlyn Alycia
Hard to find good Vegan Chocolate let alone delivered right to your door! Thank you Sweets N' Treats!

Reg Moore
Shopping was a breeze they have a fabulous selection! Very friendly and accommodating we will definitely be back!

Vicki Dixon
Sweets N' Treats are my go to for when you need treats delivered right to your door (or your girl's door he he)! 

Tony Armstrong
How It All Began...
Debbie Busby started Sweets N' Treats in 1996 in her kitchen as a way to earn money to put a new deck on her home. Within the first year she began working with Zehrs. What started as a contract with one store quickly expanded to 60 stores.

In 1999 she quit her day job and started working for herself full time. By 2005 she had 13 employees working in her basement and decided it was time to move to the current location at 14 B Line Road in Wingham. Eventually the business became something she wasn't prepared to continue and scaled back the operation to be more of a chocolate and specialty shop. And that's the way it has been ever since. With custom baskets and a small selection of high quality gourmet foods, Sweets N' Treats is not only the area's only chocolate shop, it's your one stop shop for all things sweet.

Sweets N' Treats: The Name Says It All!