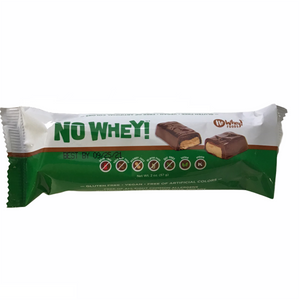 One bite into a No Whey bar and it will transport you to the depths of a chocolate fantasy. The inside is layered with our famous PeaNOT nougat and velvety, vegan caramel. 
When you bite into this unique candy bar, you won't believe that there is no milk, peanuts, nuts, eggs, soy, or gluten - NO WHEY! Net. Wt. 2 oz.

 

This product is made in a dedicated facility free from the top 8 common food allergens and is gluten free. This product is dairy free, peanut free, tree nut free, soy free, wheat free, egg free, fish free, shellfish free, and gluten free.