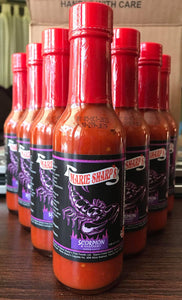 Marie Sharp's Scorpion hot sauce is their hottest sauce by far!  Twice as hot as the Beware sauce.  For hot sauce lovers with a bit of experience.  Heat seekers will love the spicy flavor. 
This is a first for Marie Sharp's.  Be the first one to try it.
No artificial color, flavor, preservatives or additives.  All natural products.
Ingredients: Scorpion peppers, Habanero peppers, vinegar, salt, onion, garlic.