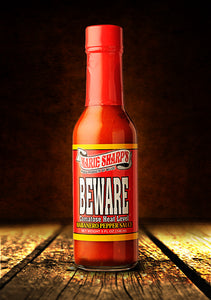 WARNING/ATTENTION Must be strong to handle this sauce
A solid fave for those who like it a little hotter. The label says not to play tricks on the weak or the elderly with this sauce!!
We rate this one as a 5 out of 6 on our product heat scale.  Definitely for those who can tolerate a bit more heat.
No artificial color, flavor, preservatives or additives.  All natural products.
Ingredients: Habanero pepper mash, capsicum oil, fresh carrots, white vinegar, lime juice, tomato, creole spices, onions, garlic, salt.