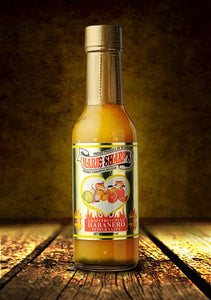 Nice and subtle, but with a slow burn that will creep up on you.  This is the perfect accompaniment for rice and savoury dishes.  Add some to your salsas and marinades for extra tartness and punch.  But you HAVE TO try it on garlic shrimp – it will blow your mind.  This is one of our top sellers so far.
We personally give this a 2 out of 6 as far as heat goes.
No artificial color, flavor, preservatives or additives.  All natural products.  Gluten Free.
INGREDIENTS: Grapefruit pulp, select yellow habanero pepper, white vinegar, onions, salt, lime juice and garlic.