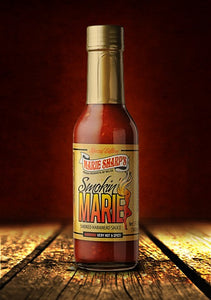 HOT!!! Marie Sharp's hot sauce! Smokin' Marie .. the hottest of the Marie Sharp's fine line of products. The label says "FOR CONNOISSEURS OF EXTREME HEAT AND QUALITY SAUCES ONLY! ALL OTHERS BEWARE".  Use on smoked or bbq ribs, slow cook a pork roast for a PERFECT pulled pork. Mix with the Pineapple Jam and bake a smoked ham for a spicy kick.  Cook up a batch of wings and make your friends cry 😀
We personally rate this one as a 6 out of 6 on our product heat scale.  Definitely for those who can tolerate the heat.
No artificial color, flavour, preservatives or additives.  All natural products.
NO ARTIFICIAL SMOKE FLAVOUR – THIS IS THE REAL THING.
Ingredients: Smoked Habanero Pepper, Vinegar, Carrots, Salt, Onion, Lime Juice, Garlic and Spices.